Amalia is a female Greek name, whose roots are not very clear in the Greek language.
We do know that Amalia derives from the Germanic name Amala, which begins with the element amal meaning "work", but we do not know how exactly  it was used in our language and how it was made Greek.
The name Amalia was unknown in Greece till the early 8th century.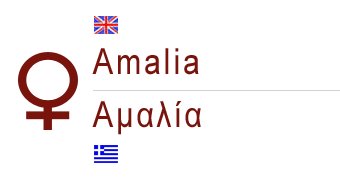 Sound of name Amalia: Ah-mah-leé -a
Male Version of name Amalia: Amalios (not in use)
Nameday of Amalia: July 10th
Origin of name Amalia – Blessed Amalia, Amalberga of Maubeuge
The name Amalia is associated with a woman who lived in Belgium during the 7th century AD.
Her original name was Amalberga, who was born in a region close to today's Brussels. She was sister or niece of St Pippin of Landen and she married Count Witger, Duke of Lotharingia and Count of Brabant.
Amalberga joined the monastic community at Maubeuge Abbey by the end of her life continuing the work of the Benedictine. She died in 690AD peacefully.
She was declared a saint and the Greek Orthodox Church celebrates her memory on July 10th.
Nicknames deriving from name Amalia
Amalia doesn't have many nicknames and diminutives. Actually, the only ones known are Ameli, Amelia, Lia.
The Names' Fairy reveals the meaning of name Amalia
Amalia is a hard working and very well organized woman. She is quite open minded and she has a rather vivid imagination. She likes physical activities a lot.