Argiris or Argyris is a common male name in Greece, the respective name of Argiro. Name Argiris comes from the Greek word argiros, which means silver, or item of value.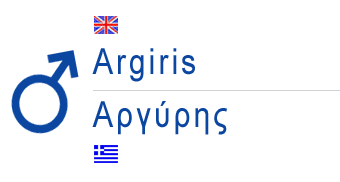 Sound of name Argiris: Ar-geé-rees
Male Version of name Argiris: Argiro
Nameday of name Argiris: April 30th and may 11th
Origin of name Argiris – Martyr Argiri
The name Argiris was not common in the ancient years, however,  existed  in the Greek Language since then. For the Greek Orthodox Church, the name Argiris, same as its female respective,  is associated with  Martyr Argiri, a holy woman that lived in Bursa in Asia Minor, during the 18th century. You can read additional details about Argiri at the pertinent post for the name Argiro.
However you might find some Greek men who celebrate their name day on May 11th. The Greek Orthodox Church celebrates the name Argiris on May 11th, honoring a young man from Thessaloniki who lived in the 18th century, during the Turkish occupation. This man was forced to change his faith, but he chose death instead. He was killed on May 11th 1806 by the Turks.
Nicknames deriving from name Argiris
Argiris doesn't feature any nicknames and diminutives.  The only commonly used versions of the name are Argirios, Argiros and Argirakos.
The Names' Fairy reveals the meaning of name Argiris
Argiris is a man with good manners and nice taste. He likes beautiful things and he is always ready to spend money in order to have a good time.