Christos is a common Greek male name. Although basically associated with the Christian Religion and Christ, the origins of the name lie on the ancient Greek language, since there is the word "hrio" (χρίω) which means "to anoint". Christ is, thus, the Anointed one.
Name Christos can be spelled as Hristos as well, which is closer to the Greek spelling of the word. There has been lately some controversy about the right way to spell the name in Greek as well, because the variety of vocals in the Greek language makes it hard to agree on a particular spelling some times. Today it is possible to see name Christos in different spellings in Greek – Χρήστος or Χρίστος.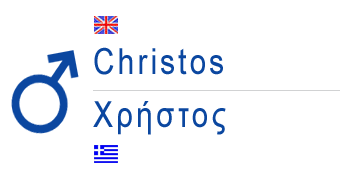 Sound of name Christos: Chreé-stos (opposite from Christos-Christ whose name sounds like Chree-stós)
Female Version of name Christos: Christina or Hristina
Nameday of name Christos: 25th of December, Christmas day
Origin of name Christos – Jesus Christ
Although name Christos comes from the ancient Greek Language, it became popular and commonly used towards the late Christian years, after Christ and his story became widely known and taught by the Apostles and other followers of the new religion. For the Greek Orthodox Church, name Christos is associated with Jesus Christ, the Messiah of the Christian World. Both the birth and resurrection of Christ are celebrated by the Greek Orthodox Church, and although there is much controversy about the real date of Christ's birth date , the 25th of December is chosen as the date celebrated by the Western countries as the birth date of Jesus. This is the date celebrated by the Greek Orthodox Church – the only Orthodox country celebrating Christmas on that date. Therefore, Christos celebrates his name day on Christmas day.
Nicknames deriving from name Christos
Christos features just a few nicknames and diminutives; the most common ones are: Chris, Christakis, Christakos, Takis, Akis, Kristis, Christis.
The Names' Fairy reveals for name Christos
Christos is quite stubborn and wants to do things he likes the most, without considering other people's desires or demands some times. Christos is a man that will rarely accept he has made a mistake and will not apologize in the case he did something wrong, but will try to defend his choices and actions as much as possible.