Damianos is a Greek name which derives from the Greek word "damao" which means "to tame".
Damianos is not a very common name, but many people who are close to the Church and are deep believers in Christian religion use this name.
Damianos is the Greek version of the Latin name Damianus or Damian.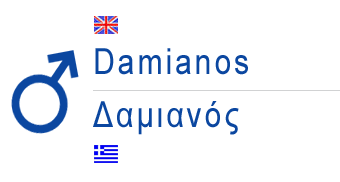 Sound of name Damianos: Da-mee-a-nós
Female Version of name Damianos: N/A
Nameday of Damianos: July 1st
Origin of name Damianos – Agioi Anargyroi
Damian  martyred together with his twin brother Kosmas, due to their beliefs and their ability to heal during the early years of the 4th century.
Damianos and Kosmas are considered the patron saints of medical doctors.
You can read more about this name at the pertinent post for name Kosmas.
Nicknames deriving from name Damianos
Damianos doesn't have any nicknames or diminutives.
The Names' Fairy reveals the meaning of name Damianos
Damianos is a brave man, but relatively antisocial, unless he wants to be part of a group or a team. He can be very reliable in his working field.