Eirini is a popular Greek female name, whose origins are found in Ancient Greece.
Irene or Eirini as it is written in Greek, comes from the ancient Greek word "eiro" which means "to connect".
Eirini in Greek means peace (ειρήνη).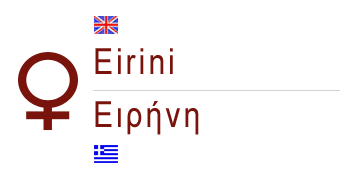 Sound of Name Eirini: I-ree'-ne
Male Version of name Eirini: N/A
Nameday of name Eirini: May 5th
Origin of name Eirini – Saint Eirini the Martyr
Eirini in Ancient Greek Mythology
The name Eirini comes from an ancient Greek deity, called Eirini. She was daughter of Zeus and Themis and she was one of the Horae, sisters of Nymphs.
Eirini was the deity of peace and richness.
In artistic creations she was always depicted as a young beautiful woman holding a torch and a baton.
Saint Eirini in Greek Orthodoxy
Eirini, though, in the Greek Orthodox calendar comes from Saint Eirini (Agia Eirini) the Martyr, a woman who lived during the 4th century. She was from Menegi, daughter of local official Licinius, who was Persian.
Her name was actually Penelope, but when she adopted Christianity, she changed her name to Eirini.
According to the facts, she was very well educated and beautiful, and she was also very religiously active in Persia.
Her faith and actions were enough reasons for her prosecution and Eirini had to flee to Ephesus in order to continue with her teaching.
Due to her religious faith and actions, Eirini was declared a Saint from the Orthodox Church.
Nicknames deriving from name Eirini
Eirini doesn't have many nicknames; the most popular and common ones are: Rena, Iro, Renia, Rania, Ria, Rinaki, Rinoula, Rinio.
The Names' Fairy reveals the meaning of the name Eirini
Eirini is cute and driven by her feelings; she makes many mistakes because of that and she is quite ambitious.
She pays much attention on other people's opinion and wants to look more independent than she really is.