Ioulia is a female Greek name which has both Greek and Latin roots. In ancient Greece, the name Ioulios (the male respective of Ioulia)  referred to a particular season of the year, which included summer as well. Later, in the Roman years, Ioulios became a name, with the most known bearer of the name being Iulius Caesar, known in English as Julius Caesar. Name Ioulia is the Greek respective name of Julia.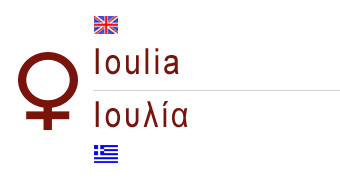 Sound of name Ioulia: Ee-oo-leé- a
Male Version of name Ioulia: Ioulios
Nameday of name Ioulia: December 21st
Origin of name Ioulia – Ioulia the Martyr
We already referred to the etymology of name Ioulia; for the Greek Orthodox Church, the name Ioulia is actually associated with a woman who was born in Carthage during the 5th century AD.
Ioulia came from a wealthy family, but was sold to a Syrian merchant in 439. This man sailed to Corsica where he anchored to participate to a pagan feast; according to the story, Ioulia did not disembark, because she did not want to participate in such a feast since she was a Christian. The ruler of the city ordered her to pay tribute to the pagan symbols and when she refused she was crucified.
The Eastern Orthodox Church declared Ioulia a martyr, celebrating her memory on December 21st.
Nicknames deriving from name Ioulia
Ioulia features a few nicknames and diminutives.  These are, Julia, Iouliani, Youla, Youlitsa, Ioulitsa, Julietta.
The Names' Fairy reveals the meaning of name Ioulia
Ioulia is a very good hearted person, always willing to help other people. Some people consider her to be a little naive sometimes, but she just hides her maturity and smartness behind her kindness.