Rafail or Raphail is a Greek male name; it is not a very common name in Greece, as it is mostly found in other parts of Europe, such as Spain or Italy, but in Greece Rafail is the protector saint of the island of Lesbos, therefore, many men from this island are named this way.
Rafail comes from the Hebrew name Rafael which means "God has healed".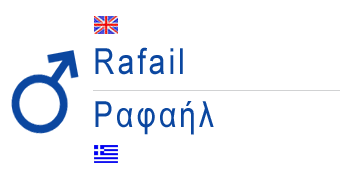 Sound of name Rafail: Ra-pha-éél
Female Version of name Rafail: Rafaella
Nameday of name Rafail: April 6th
Origin of name Rafail – Agios Rafail (Saint Rafael), Archangel Rafail
Name Rafail originates from the Hebrew tradition. It was the name of one of the 7 archangels of God, known also as Tobias; however, for the Greek Orthodox Church, the name Rafail is associated with a man who lived on the island of Lesbos.
Saint Rafail was born in Ithaca and became a monk while still young. In 1453 he went to Lesbos, to the Monastery of Holy Virgin. In 1463, both him and Nicholas of Lesbos suffered many tortures by the Turks who invaded the island.  He died after many days of tortures and was declared a saint by the Greek Orthodox Church. The Monastery of Agios Rafail in Lesbos is a place of pilgrimage, as his icon is considered miraculous.
Nicknames deriving from the name Rafail
Rafail doesn't have many nicknames and diminutives. You can find, though, men named Rafaillos, or Rafaellos.