Vassilios, Vasileios or Vasilios is a male Greek name, the respective of name Basil found in many countries of the Eastern Europe.
Vasilios derives from the Greek word vasilefs, which means King and, thus, the name refers to someone "Royal".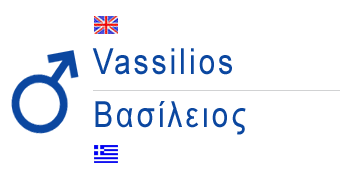 Sound of name Vassilios: Va-ssee'-lee-os
Female Version of name Vassilios: Vassiliki
Nameday of name Vassilios: January 1st
Origin of name Vassilios – Agios Vasileios, Saint Basil
Name Vasilios is associated, for the Greek Orthodox Church, with Agios Vasileios or St Basil in English, the famous bishop of Caesarea (Basil of Caesarea)
Additional information on Agios Vasileios can be found at the pertinent post of Vasilis.
Nicknames deriving from name Vassilios
The name Vassilios features a few diminutives and nicknames, such as Vasilis, Bill, Vasilakis, Akis, Sakis, Billis, Vasos, Vasilas.
The Names' Fairy reveals for name Vasilios
Vasilios is a man interested in the arts and creation. He likes using his hands to make things, small or bigger, complex or not. He can be very friendly, but he is also very sensitive and easily hurt. He cannot adjust to changes easily.