Vasilis or Vassilis is a rather commonly found Greek male name; it is the most popular nickname deriving from name Vassilios, which is the Greek name for Basil.
The names Vassilis and Vassilios come from the Greek word "vasilefs" (βασιλευς) which means king, so Vassilis refers to the basilica, the royal.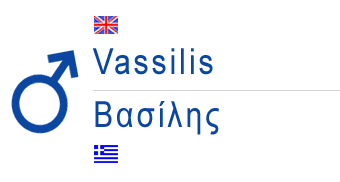 Sound of name Vassilis: Va-ssee'-lees
Female Version of name Vassilis: Vasiliki
Nameday of name Vassilis: January 1st
Origin of name Vasilis – Agios Vasilios, Saint Basil
The name Vasilis comes as mentioned from the name Vasilios.
For the Greek Orthodox Church, the name Vasilios has always been associated with Agios Vasilios or St Basil in English.
Agios Vasilios was a bishop in Caesarea, during the 4th century AD. He is considered one of the fathers of the Christian Church. St Basil was known for supporting the unprivileged and poor people; he was a supporter of the Nicene faction of the church, opposing to the Arianism which was more predominant for years.
There are many relics of St Basil all over the world, although the most known ones (among which the head) are found in Mt Athos in Greece, at the Monastery of Agia Lavra.
Due to the importance of Agios Vasilios (St Basil) for Christianity, the name became popular among the Orthodox Churches in Eastern and South Europe.
The Greek Orthodox Church honors his memory on the first day of the year, January 1st, which is the name day of Vasilis, Vaso and Vasiliki.
Nicknames deriving from name Vasilis
Vasilis is a nickname itself, but the main name Vasilios features a few diminutives and nicknames, such as Bill, Vasilakis, Akis, Sakis, Billis, Vasos, Vasilas .
The Names' Fairy reveals for name Vasilis
Vasilis is usually a man of the arts; he likes creating things and he is very good with hands. He is a little over dramatic sometimes with things and he can exaggerate when something bad happens. He is not very adaptive or flexible.