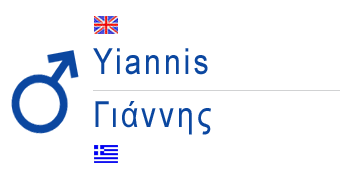 Yiannis or Yannis are nicknames for the Greek name Ioannis.
Yiannis or Yannis is a phonetic spelling properly attributing the sound of the Greek name that is usually written "Giannis" in latin characters.
Giannis looks more like the Greek spelling of the name «Γιάννης», but the sound is not correct.
The nameday of Yiannis or Yannis is on January 7th, the day of Saint John the Baptist (Agios Ioannis).
Read more about the Greek name Giannis (Ioannis).