Andreas is a male name that is rather popular in Greece, especially in this original form. The name derives from the genitive of the ancient Greek word "anir" (Andros in Genitive) which means man. Andreas is the Greek respective of Andrew, but it's used in many European languages in this form as well – in Dutch, German, Austrian, Norwegian, Swedish and more.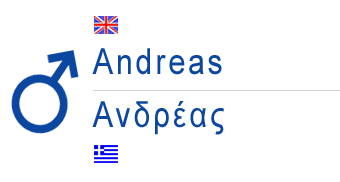 Sound of name Andreas: An-dre'-as
Female Version of name Andreas: Andriana
Nameday of name Andreas: November 30th and July 4th
Origin of name Andreas – Apostle Andreas (Andrew)
For the Greek Orthodox Church, name Andreas refers to Apostle Andreas (Andrew), the brother of Simon Peter. According to the Testament and the Orthodox Tradition, Andreas was a fisherman from Galilee, a follower of St John the Baptist, who introduced them to Jesus. Since then, both Peter and Andreas became Jesus' followers and two of the Apostles. Andreas, after the Crucifixion, traveled a lot in the Middle East, then in Macedonia and Thrace and ended in Achaia in Greece where he healed many sick people, helped the poor and preached the new religion. He was arrested and crucified due to his Christian believes, and became a saint for the Greek Orthodox Church. Apostle Andreas  is the protector saint of the city of Patras, capital of Achaia prefecture and his memory is celebrated on November 30th.
In the Greek Orthodox Calendar there is another Andreas, Agios Andreas (St Andreas) who lived in Damascus and was one of the biggest followers of the Christian Religion. He became bishop in Gortys in Crete and became one of the most important bishops in the region. His name was associated with many miracles. His memory is celebrated on July 4th.
Nicknames deriving from the name Andreas
Andreas doesn't have many nicknames and diminutives; the ones known and used are Andrikos and  Andritsos.
The names' Fairy reveals for the Name Andreas
Andreas is brave and fearless. He likes participating in social events and occasions, and he can be quite jealous and envious of others when they are better than him. He is smart and has original ideas.