Apostolia is a female Greek name, the female respective of name Apostolis. It is not as common as the male name. Its origins are also found in the ancient Greek language, since its roots are associated with the word apostello, which means to send.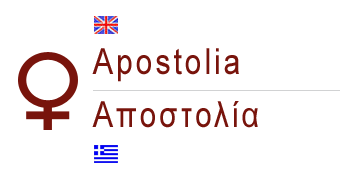 Sound of name Apostolia: A-po-sto-leé-a
Male Version of the name Apostolia: Apostolos or Apostolis
Nameday of Apostolia: June 30th
Origin of name Apostolia
Since the name Apostolia is the female respective of Apostolos or Apostolis, the origin of Apostolia is found in the apostles and their assumption. You can find additional information about the origins of the name at the pertinent post for name Apostolos.
Nicknames deriving from name Apostolia
Apostolia does not have many nicknames or diminutives. The most known ones are Lia and Litsa.
The Names' Fairy reveals the meaning of name Apostolia
Apostolia is a very extroverted person, always involved in social events and groups. She is outgoing and she is very fond of good life.