Eleftheria is a common Greek female name; it is one of the names whose origins are the subject of some sort of dispute among Christians and historians, as the latter suggest that the name Eleftheria and its male respective Eleftherios come from the ancient Greek word eleftheria which means freedom, while the Christians tend to remember only St Eleftherios. The truth is that name Eleftheria comes from the homonym Greek word and translates to freedom.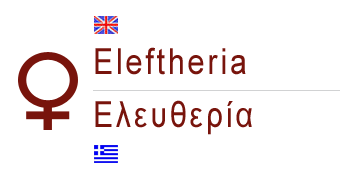 Sound of name Eleftheria: E-le-fthe-ri'a
Male Version of name Eleftheria: Eleftherios
Nameday of Eleftheria: December 15th
Origin of name Eleftheria
As we said, the name Eleftheria comes from the Greek word eleftheria and eleftheros – with the latter meaning free.
For the Greek Church, the name is given to children to commemorate St Eleftherios, who was born in Greece during the 2nd century AD, while Commodus was the emperor in Rome. His mother, Anthia was a Christian and she brought up her child with the customs of Christianity. When she decided to visit Rome in order to see the place where Apostle Paul and Peter lived, she took her son with her.
Eleftherios was a very clever young man and he impressed the Bishop of Rome and a few years later, he joined the Church becoming a bishop himself. The new Emperor Sevirus was a strict ruler, and against Christianity, so he captured Eleftherios among other bishops and Christians and killed him.
The Greek Church declared Eleftherios a martyr and Saint and celebrates his memory on December 15th. Saint Eleftherios is also the protector of the pregnant women.
Nicknames deriving from the name Eleftheria
Eleftheria has some popular and common nicknames; some of them are: Ria, Ritsa, Rita, Elli, Lefteria, Lefteria, Leftero.
The Names' Fairy reveals the meaning of the name Eleftheria
Eleftheria is  gentle and nice; she is free spirited and cannot be easily oppressed. She doesn't appreciate people with limited minds and attitudes.