Evanthia is a female Greek name, whose origins are found in Ancient Greece, but it was used more during the early Christian years.
The name Evanthia derives from the words "ev" and "anthos" which mean nice and rosebud, therefore Evanthia means the nicely blossoming flower.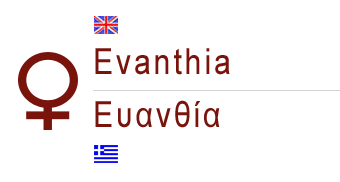 Sound of name Evanthia: E-van-theé-ah
Male Version of name Evanthia: Evanthos
Nameday of Evanthia: September 11th
Origin of name Evanthia – Agia Evanthia (St Evanthia)
Evanthia is associated with Agia Evanthia, a woman who was married to St Dimitrios. According to one story, they died of starvation together with their son.
However, in the Book of Saints of the centurion Cornelius, we find a different story:
Demetrius was a philosopher and master in Skipsis city of Asia Minor, and persecutor of Christians. His wife  Evanthia and his son Dimitrianos were praying in the temple, together with Cornelius. One day there was a strong earthquake and Evanthia and Dimitrianos were buried alive under the ruins of the temple, but kept chanting the name of Cornelius.
Demetrius learned that, found Cornelius and begged him to save his family. Indeed Cornelius pulled the two family members of Demetrius alive from the ruins. This miracle convinced Dimitrios to become a Christian, together with many of the inhabitants of his town.
The nameday of Evanthia is on September 11th.
Nicknames deriving from name Evanthia
Evanthia has a few nicknames, such as Evi, Eva, Anthi, Anthoula, Evoula, Evanthoula
The Names' Fairy reveals the meaning of name Evanthia
Evanthia is social and curious, does not miss an opportunity to gossip. She usually tries to avoid fatigue and discomfort when she can.