Michalis is a very common Greek male name; it is the main nickname deriving from name Michail, and is a Hebrew name that means "connected to God" or "resembling to God". The name Michalis can also be spelled Mihalis.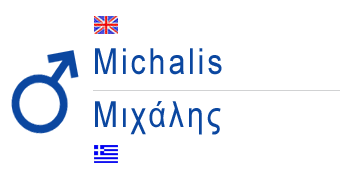 Sound of Name Michalis: Mi- cha'-lis
Female Version of name Michalis: Michaella
Nameday of Name Michalis: Michalis celebrates his name day on November 8th
Origin of Name Michalis – Archangel Michael
The name Michalis refers to the Archangels Gabriel and Michael and that is why the name day for Michalis is on November 8th when, according to the Greek Orthodox church, is the assembly of the Archangels and all other bodiless Angel orders.
Angels in Christian Church are of significant importance and have several appearances to humans. The Scripts refer to miracles and other interventions of the angels in human life and they have always been messengers of good news and god's will to people.
According to the Christian Religion, Archangel Michael was the one who led the Jews out of Egypt and who announced Abraham that he has to sacrifice his son. It comes as no surprise, thus, that Church has included names reflecting its angels to its calendar.
Nicknames deriving from name Michalis -Michail
Michalis a nickname itself, deriving from the name Michail, which features a few nicknames: Michael, Michalos, Michalios, Michalakis, Michos, Michelis, Michailos, Micel.
The Names' Fairy reveals the meaning of the name Michalis
Michalis is usually an imposing person, and is quite hot tempered. He pays much attention on traditions and family and he is considered a real patriot. He is social and he likes spending lots of time with his friends and relatives.