Theofania is a Greek female name, the respective of male name Theofanis. Although the name is associated with one of the most important holidays of the Greek Orthodox Church, the name comes from the homonym Greek word theofania, which means the appearance of God.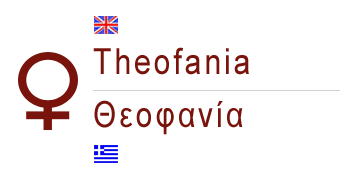 Sound of name Theofania:The-o – fa – nía
Male Version of name Theofania: Theofanis
Nameday of name Theofania: January 6th, Theofania, March 12th
Origin of name Theofania – Theofania and Agios Theofanis
Name Theofania is associated with the day of the Theofania, the appearance of God, referring to the baptism of Jesus at the Jordan river by Saint John the Baptist. Additional information for the origin of the name can be found at the pertinent post for the male Greek name Theofanis.
Nicknames deriving from the name Theofania
Theofania has a few nicknames and diminutives, such as Fania, Fani, Fanoula, Fanitsa, Nitsa, Theofano, Fenia
The Names' Fairy reveals the meaning of the name Theofania
Theofania is a very attractive woman who likes maintaining warm and close relationships with her family and friends.  Theofania can be very rational and dependable, especially for her friends who might have any kind of problem.