Agapios is a Greek male name, which is not very popular nowadays, but used to be quite common a few decades ago. Name Agapios is quite common in North-Eastern Greece and in areas where Pontic people live, since it was quite popular name for people living in the Pontic Sea. Agapios is the male respective name of Agapi or Agape.  Agapios is a name whose roots are found in the word "agapi", meaning love.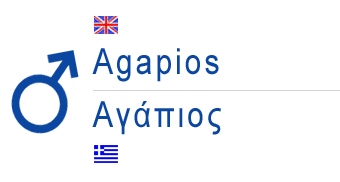 Sound of name Agapios: A-gá- pee-os
Female version of name Agapios: Agapi
Nameday of name Agapios: March 15th
Origin of name Agapios – Agios Agapios, St Agapios
Agapios is a name in the Greek Orthodox Calendar honoring Agios Agapios (St Agapios). Agapios was a man who lived in Caesarea during the reign of the fierce emperor Diocletian, known for the persecution of the Christians.
Agapios was accused of being a Christian and was brought to the Ruler of Caesarea who tortured him, trying to make him deny his faith. Agapios did not deny his faith and confessed being a Christian, which enraged the ruler. He had Agapios decapitated, and the Orthodox Church declared him a Saint, celebrating his memory on March the 15th.
Nicknames deriving from name Agapios
Agapios is a name that doesn't have nicknames and diminutives. However, you can find some men called Pios – especially of Pontic origin.
The Names' Fairy reveals the meaning of name Agapios
Agapios is a calm man, always willing to help people with their tasks. Known for his good deeds and mild temper, Agapios is usually much beloved by people.