Evdokia is a female Greek name which derives from the Greek words ev (ευ) that means good and doko (δοκώ), which means to think. Therefore, Evdokia means the one with the good thinking, or the one that seems well.
Evdokia is a name that is used in the Greek mainland mostly.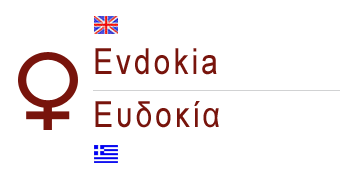 Sound of name Evdokia: Ev-do-keé-a
Male Version of name Evdokia: N/A
Nameday of Evdokia: March 1st
Origin of name Evdokia – Agia Evdokia (St Evdokia)
Evdokia is the name of a girl that is referred to in the Scripts of Jerusalem, although not many things are known about her. The only thing known is that this girl was declared a saint and the Orthodox Church celebrates her nameday on March 1st.
There is also another woman named Evdokia mentioned in the Orthodox Calendar. She is the Blessed Evdokia, a woman who lived during the times of Emperor Traianus or Trajan.
Evdokia was persecuted for her Christian beliefs and was brutally killed. She was declared a blessed woman, and her nameday is celebrated on March 1st.
Nicknames deriving from name Evdokia
Evdokia features just a few nicknames and diminutives. The most common ones are Evi, Evdokoula, Evdokitsa, Evdoki, but none of them is that common.
The Names' Fairy reveals the meaning of name Evdokia
Evdokia is a woman known for her virtues and her love for the family. She is very fond of kids and she likes being around friends.