Giannis or Yiannis is a very common male name in Greece; it comes from the name Ioannis and it is its most commonly used version. Ioannis or Giannis, come from the Hebrew name Yochanan, which means "gracious" or with the grace of God.
The name Giannis became popular to the Western and Eastern Church due to the important New Testament characters. Ioannis and Giannis are the Greek versions of name John.  Strangely enough the name Giannis is being used in many proverbs and sayings in Greece, but most them are based on local idiomatic phrases and are not subject to translation.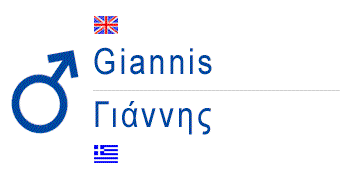 Sound of name Giannis: Yi-a'n-nis
Female Version of name Giannis: Gianna, Ioanna
Nameday of Name Giannis: January 7th
Origin of name Giannis – St John the Baptist
For the Greek Church, name Giannis or Ioannis, comes from St John the Baptist, the ascetic figure of the Christian religion who was considered the forerunner of Jesus Christ. John was the son of Elisabeth and Zachary. The couple was infertile but Archangel Gabriel sent a message to Zachary that his wife would give birth to a son, who should be named Ioannis, John.
John was a wise man and at the age of thirty he started teaching the new religion, talking about God and his Messiah. He went to River Jordan, where under the instructions of God was baptizing people to the new religion. There is where Jesus was also baptized by John. John's preaching was way too annoying for the ruler of Judea, Herod who arrested him and kept him in prison. One night, during a feast at the palace of Herod, Salome, his wife's daughter asked for his head, in order to dance a sensual dance to Herod. Herod capsized John.
The Eastern and Western Church celebrate the memory of John the Baptist. However, the second most notable John in religion is Apostle John, who is the author of the Apocalypse. In fact there are six days dedicated to St John (Agios Ioannis) during the year, although Greeks tend to celebrate their name day on January 7th.
Nicknames deriving from name Ioannis – Giannis
As we said, Giannis is the most commonly used nickname deriving from name Ioannis. Other nicknames are:  Giannakis, Giannos, Tzanis, Yangos, Zannetos, Giannaros, Giannaras.
The Names' Fairy reveals the meaning of the name Giannis
Giannis is a strong person and can be quite dominant. He is very dependable person and loves his family a lot. Introverted in general, but he is very open with his friends.