Marilena is a female Greek name, which is relatively common in Greece.
Marilena is actuallty a compound name, because it derives from the names Maria and Eleni, which are both very common female names, as we have seen already.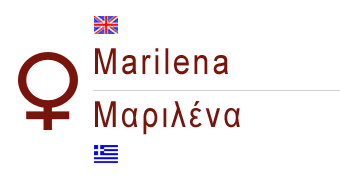 Sound of name Marilena: Ma-ree-lé-nah
Male Version of name Marilena: N/A
Nameday of Marilena: May 21st . Although it's a compound name, in most cases Marilena celebrates its nameday on the nameday of Eleni, May 21st. You might also find a woman named Marilena  whose nameday is on Maria's nameday on August 15th or November 21st.
Origin of name Marilena
As mentioned earlier, Marilena derives from the names Maria and Eleni. You can read more about each one of the names at the pertinent posts for names Maria and Eleni.
Nicknames deriving from name Marilena
Marilena does not have a nickname or diminutive because it is a "made" name.
The Names' Fairy reveals the meaning of name Marilena
In order to find the meaning of name Marilena you should probably read the meanings of name Maria and Eleni