Mideia or Medea is a female Greek name whose origins are found in the ancient Greek mythology and literature.
The meaning of name Mideia is not exactly known, but it is believed that it means "cunning" or "ponder".  The spelling Mideia is very close to the original Greek spelling of the name – Μηδεια.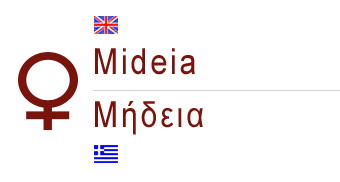 Sound of name Mideia: Meé-thee-a
Male Version of name Mideia: N/A
Nameday of Mideia: N/A
Origin of name Mideia – The ancient Greek name Medea
In Greek mythology and literature, Mideia was a sorceress from Colchis (modern Georgia) who helped Jason gain the Golden Fleece.
The Greek tragic poet Euripides wrote one of the best tragedies ever, based on the myth of Jason and Medea. According to the tragedy of Euripides, Jason and Medea were married, but eventually Jason left her for another woman. For revenge Medea slew Jason's new lover and also had her own children by Jason killed.
Name Mideia became symbol of mother-killers of their children and she is one of the most tragic but also overwhelming characters in Greek mythology and literature, inspiring many modern artists.
There is no nameday for Mideia or Medea.
Nicknames deriving from name Mideia
Mideia does not have any nicknames or diminutives.
The Names' Fairy reveals the meaning of name Mideia
Mideia is a very talented woman, who likes getting involved in other people's business. She is not considered a reliable person, but she is always very much committed to what she wants to do.