Stylianos is a Greek male name, although not commonly used in its full form. Usually in Greece, males named Stylianos are called with some other diminutives or nicknames, such as Stelios, which is by default the most common one.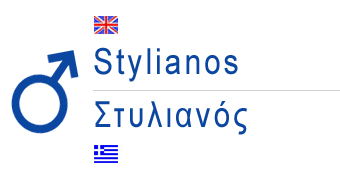 Sound of name Stylianos: Stee-lia-no's
Female Version of name Stylianos: Styliani
Nameday of name Stylianos: November 26th
Origin of name Stylianos – Agios Stylianos (Saint Stylianos)
Names Stylianos and Stelios are associated with Agios Stylianos, the Saint Stylianos of the Greek Orthodox Calendar. You can find additional information on the name Stylianos at the pertinent post for name Stelios.
Nicknames deriving from name Stylianos
As mentioned, Stelios is the main nickname deriving from name Stylianos, which also features a few more nicknames and diminutives, such as Telios, Telis, Stellis, Akis.
The Names' Fairy reveals for the name Stylianos
Stylianos is a person who likes having fun and always tries to see the bright side of things. Taking life seriously is important, but not way too much, so Stylianos is always trying to be optimistic and walk through life with a smile.