Vassiliki is a female Greek name, commonly found in Greece. Name Vassiliki is the female respective name of Vassilios; in the Greek language Vassiliki refers to the "royal one". In religious terms, Vassiliki refers to the Basilica, the type of church used in many Orthodox and Catholic Countries.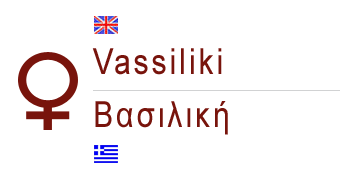 Sound of name Vassiliki: Va-ssee-lee-keé
Male Version of name Vassiliki: Vassilios
Nameday of name Vassiliki: January 1st
Origin of name Vassiliki – Agios Vassilios – Saint Basil
Vassiliki is the female respective of name Vassilios, thus, is associated with the Saint Basil, Agios Vassilios in Greek. You can read a more detailed reference to the saint, at the post for the name Vassilios.
Nicknames deriving from the name Vassiliki
Vassiliki features a few nicknames and diminutives; the most known and popular ones are: Vasso, Vicky, Vassia, Vivi, Vivian, Vassilikoula, Vassilitsa, Koula, Litsa, Vasileia
The Names' Fairy reveals the meaning of name Vassiliki
Vassiliki is a powerful woman who thinks high of herself and always manages to manifest her self confidence. Vassiliki is considered a trustworthy and dependable person and is always good at work, although little distant from other people.