Athina or Athena is a female Greek name whose origins are found in Ancient Greece. The meaning of the name Athina is not known, although there is a theory about it. According to this theory the name comes from the words "ather" which means sharp, and the word "aine" which means praise.
Name Athina is mostly known due to the Goddess Athena (or Athina), the ancient Greek Goddess of wisdom and warfare. Athena was the daughter of mighty Zeus and the Patron Goddess of the city of Athens, the capital of Greece. Athens took its name after its patron Goddess, who gifted her city with the olive tree and the owl. These two are the emblems of both the city of Athens and the Goddess Athena.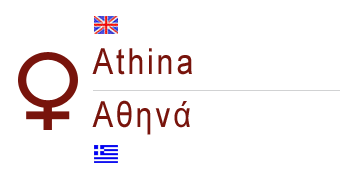 Sound of name Athina: A-thee-ná
Male version of name Athina: N/A
Nameday of name Athina: September 1st
Origin of name Athina – Agia Athina
Athina is another name that comes from the antiquity; being a Greek God Name, Athina would not have a nameday in the Greek Orthodox Calendar. However, the Greek Orthodox Church has included in its calendar Agia Athina, referring to a woman who lived in Andrianoupolis and was one of the 40 virgins.
Athina was one of the 40 students that were arrested and tortured to death by Licinius, the ruler of Thrace because of their faith. The women refused to pray and believe in pagan symbols, and were executed for their beliefs. The Greek Orthodox church celebrates their nameday of Athina on September 1st, along with other names such as Antigoni, Afroditi and more.
Nicknames deriving from name Athina
Athina doesn't have many nicknames or diminutives. In fact, you can only find name Athinoula or Athinio, but these are not that common. In general ancient Greek names do not have many diminutives or nicknames.
The Names' Fairy reveals the meaning of name Athina
Athina is a very curious person, who likes working on several things at the same time. She is a good hostess and likes having an open house for her friends often.