Thanos is a common male Greek name, deriving from the name Athanasios. Thanos is the second most common diminutive of the name Athanasios, after Thanassis.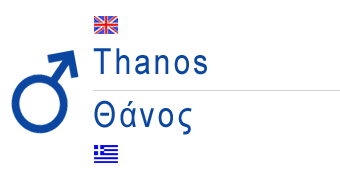 Sound of name Thanos: Thá-nos
Female Version of name Thanos: Athanasia
Nameday of name Thanos:  January 18th and May 2nd
Origin of name Thanos – Athanasios the Great
Thanos derives from the name Thanassis – Athanasios, therefore its origins refer to Athanasios the Great, whose memory is celebrated by the Greek Orthodox Church on January 18th. Additional information on the name Thanos and its main name Thanassis and Athanasios, can be found at the pertinent post for the name Thanassis.