Haralambos or Charalambos is a male name, used a lot in the Greek mainland and islands. Name Haralambos is a compound word: it means "shine from happiness", as it comes from the words hara (happiness) and lambo ( a verb which means to shine).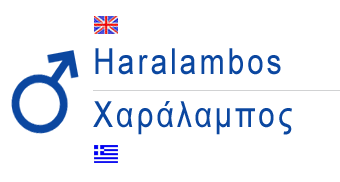 Sound of name Haralambos: Ha – ra' -lam -bos
Female Version of name Haralambos: Haralambia
Nameday of Name Haralambos: February 10th
Origin of name Haralambos – Agios Haralambos (St Haralambos)
Name Haralambos refers to a Saint of the Greek Orthodox Church, Agios Haralambos. He lived at the 2nd Century AD, when the Emperor was Septimus Severus. He was a Priest in Magnesia, in Greece and was preaching the new religion. Severus started a persecution against the Christians, and he asked Haralambos to stop preaching and adopt paganism. When Haralambos refused, he was arrested and imprisoned. Severus ordered to torture Haralambos and the guards started flaying him alive. Haralambos was enduring the tortures praying to God, and some of his guards actually started believing in the new religion. Severus was pretty much frustrated and ordered to put nails in Haralambos body and lead him to Rome in this condition. According to the tradition Haralambos endured that too and when he arrived in Rome, Severus ordered his guards to put him on a spit and skewer him over the fire. Haralambos managed to survive this as well;  he revealed to the Emperor  that he was 113 years old and  he lived with the grace of God. Severus had him decapitated and Haralambos became a Saint for the Greek Orthodox Church.
Nicknames deriving from the name Haralambos
Haralambos features some nicknames and diminutives, such as: Haris, Babis, Lambis,  Lambos, Pambos, Hambos, Lambias, Aris.
The names' Fairy reveals for the name Haralambos
Haralambos is a down to earth person and seeks for realistic goals in his life. He has a good heart and he is very social, and usually has a lot of friends of both sexes.