Dimitra is a Greek female name that appeared in the ancient years, as the most known woman bearing this name was godess Demeter, Dimitra in Greek. The word Demeter derives from the Greek words Gi (Gaia) and Mitra (Mother). The name Dimitra or Demeter as it mostly appears in Latin and English refers to the one born from mother earth.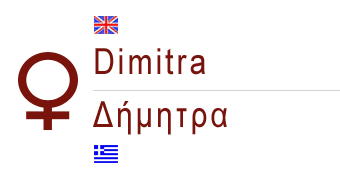 Sound of Name Dimitra: Di'-mi-tra
Nameday of Name Dimitra: October 26th
Male Version of Name Dimitra: Dimitris
Origin of Name Dimitra – Agios Dimitrios or Saint Demetrius
Except for the etymology of the name Dimitra, for the Greek Church the name has its origins in Saint Dimitrios (Agios Dimitrios), or Saint Demetrius as he is mostly known in Latin, a martyr of Christianity that lived in the early 4th century AD. You can find additional information about Saint Demetrius in our post about Dimitris.
Nicknames Deriving from Name Dimitra
Dimitra is usually kept in its original version lately, but there are several more nicknames deriving from it: Dimitroula, Roula, Mitsa, Mimi, Dimi, Mimika, Dimitria
The Names' Fairy reveals the meaning of the name Dimitra
Stubborn and quite demanding, Dimitra is not an easy person to live with, because she cannot be easily satisfied. Dimitra can be a loyal friend though, especially when she feels loved and respected.